Winter term 20/21:

Lecture: The lecture will be given in the form of video recordings that are uploaded regularly. Questions can be asked in the forum or in the weekly office hours.

Labs: The labs will take place every Thursday, 2:00 - 3:30 pm at IMT (PWR9, 3.262). The exercise sheets will always be uploaded one week before the lab. A preparation in advance is desired. Participation is not mandatory but strongly recommended.
Content
Introduction to measurement characteristics, how to turn a mechanical value into an electrical value, how to measure the temperature, height, speed, mass, torque, blood pressure, blood flow, and muscle contraction (weak noisy signals) of a patient.
After participating in this course you should be able to:
Explain the basic principles of a sensor
Describe measurement properties
Explain how a physical value is converted into a digital value
Implement basic electrical circuits transforming physical values into electrical values
Explain measurement methods of multiple different physical quantities in medical engineering
Implement signal amplifiers and methods to reduce signal noise
Select and set up the appropriate sensor for a given medical application
Overall, this course will be very hands-on and the majority on methods learned will also be implemented in the labs following the lecture.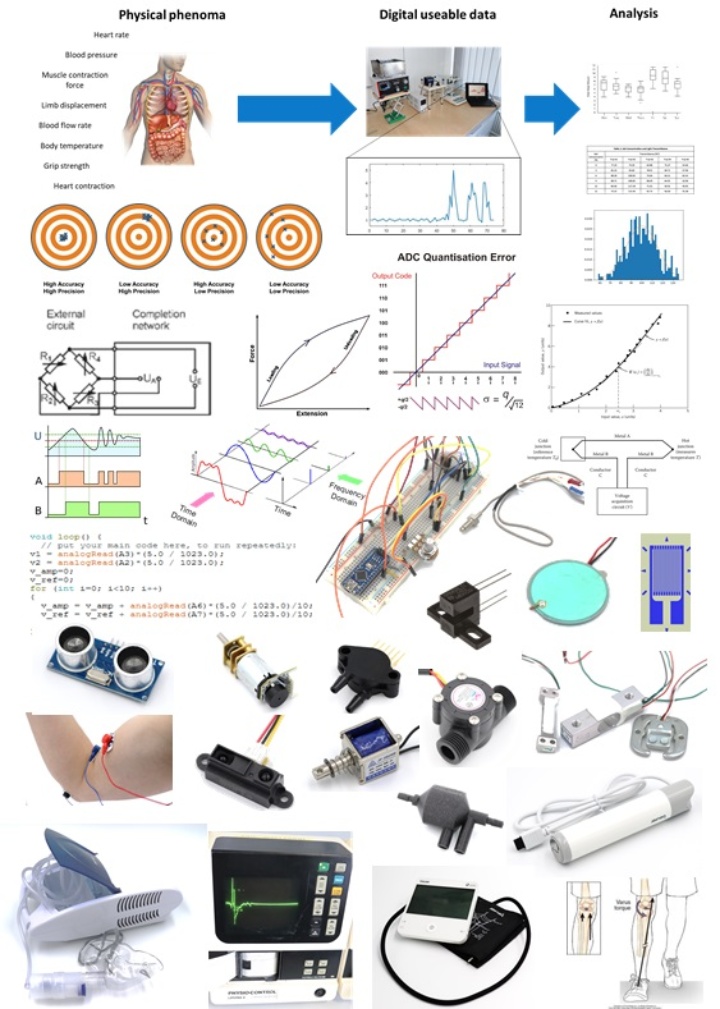 Ideal Students
Students of the M.Sc. programme Medizintechnik or Maschinenbau/MGT
Specialisation 'Medizingerätekonstruktion'
Highly interested in creating devices that interact with the body
Course Info.
2 + 2 SWS, 6 LP, EF
Lecture and hands-on lab (each week)
Written Exam
Course Language: English
Max. 32 Students
Registration
The registration takes place on C@MPUS.
Dates
The lecture is offered each winter term.
All lectures dates can be found on C@MPUS.