Equipment testing, usability
At the IMT, we have laboratories and equipment available with which we can quickly and easily evaluate and test medical devices, central assemblies, but also processes and procedures. Here we test whether our ideas - and those of our partners - do what we want them to do. We can also be creative here and develop new principles, processes and medical devices.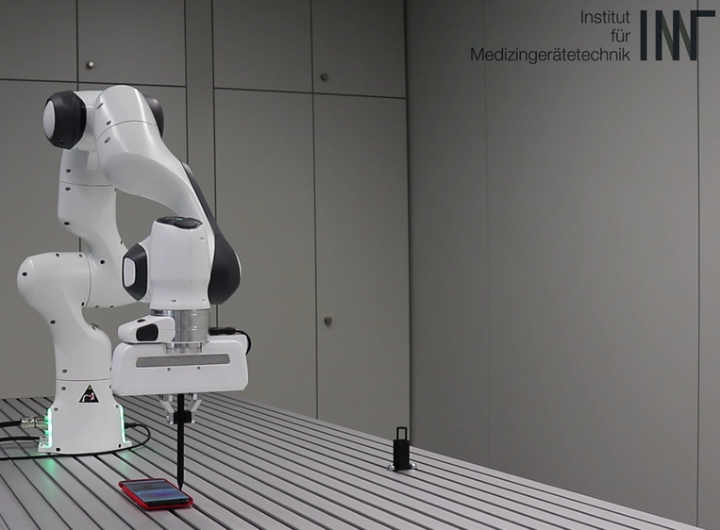 At the IMT, we use a 7-DOF jointed-arm robot with force control in the 3-kg class to test touch displays easily and quickly, for example. The device can also be used to carry out experiments on material and sample handling, but also for repeatable investigations of complex operating procedures.
A SCARA robot is used to investigate pick-and-place tasks, such as those found in laboratory automation. Here, objects weighing up to 3 kg can be manipulated.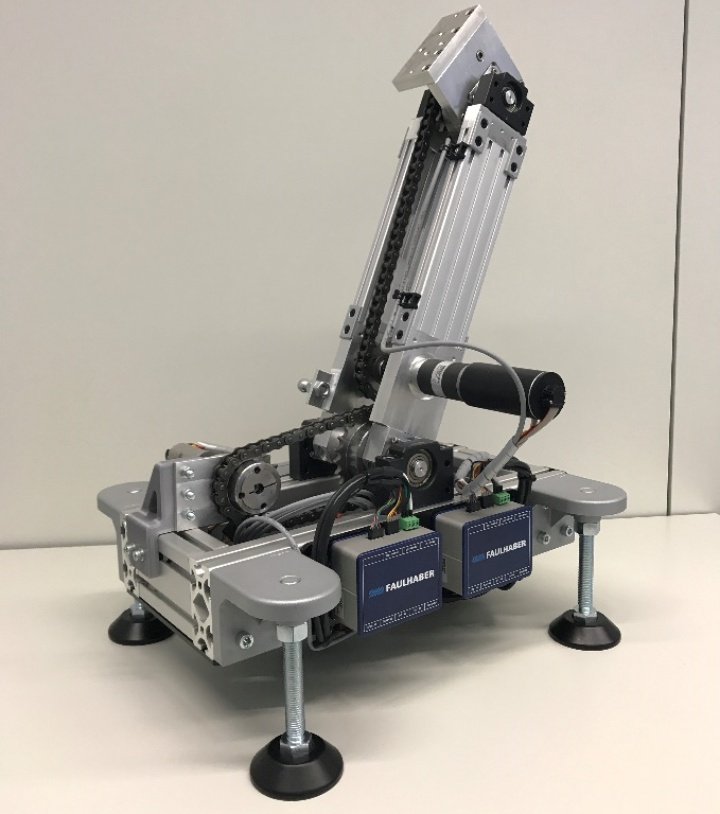 A special test stand is available for testing active knee joint orthoses. It can simulate continuous movements of the knee when walking, running or climbing stairs as well as transfer processes such as standing up or sitting down. This makes it possible to design and test control algorithms for active knee orthoses.
We are particularly proud of our ex-OP! It is used to simulate steps in certain procedures and is equipped with numerous devices such as an endoscopy tower, ultrasound imaging and devices for HF and waterjet dissection. Ventilation, lighting and a mobile operating table complete the facility. Here we test medical robotic applications, VR imaging and endoscopic imaging. Numerous anatomical phantoms help us not to lose sight of what is essential - the human being.
Market research and product evaluation
Often, functional or material properties of products available on the market need to be evaluated and characterized. Also, sometimes a profound market overview is necessary. Due to our expertise and experience, we are able to answer such questions discreetly and quickly. Please contact us directly.
We create overviews of e.g. measurement procedures, product portfolios or standards or regulations.
We can procure and test products. To do this, we use mechanical, physical, biological and chemical methods in our laboratories.
We can test non-destructively or look inside directly in a very practical way.
We provide sound written expertise and photo documentation to our results and can also create presentations, statistics and graphical representations for our clients.
Optical and electrical metrology
Properties of surfaces, movements, accuracies and dynamics - we measure all this with the help of optical measurement technology. We rely on products from well-known manufacturers and also build our own devices, test benches and test scenarios that bring us closer to the desired knowledge.
Material testing
In technology, material testing is of utmost importance not only for quality assurance but also for product development when it comes to implementing new ideas. It's no different in medical technology and that's why we deal with materials like elastomers, fabrics and foils - but we also have a lot of experience with testing biological tissue. And of course we can also test metals.
We use a tensile-compression testing machine from Galdabini, which can reach up to 25 kN force at up to 1000 mm/s speed. The software allows the individual design of test jobs and their precise repetition.
We make medical technology - and that is why we also deal with the subject of reprocessing. For this purpose, we use a thermal disinfector and an autoclave to really heat up materials, instruments or devices.
3D printing
For us, the additive manufacturing of components is not a means to an end but part of research. We are happy to support the development of 3D print-compatible components or assemblies that not only look good, but also convince in terms of their function. Cost reduction, functional integration and functionalisation are the goals of our work.
The well-known and widely used strand deposition process is the starting point for most developments. We also process functionalised filaments that are, for example, electrically conductive, biocompatible or particularly temperature-resistant. We have printers available, such as the Ultimaker, when water-soluble support material is required, or devices from Prusa Research when things have to move fast. We improve building strategies, reduce material consumption and do not lose sight of the design.
Stereolithography allows for fine geometric details and a wide range of functionality. Formlabs' Form 3 allows us to implement new ideas quickly and cost-effectively.
The Freeformer from Arburg is the jewel in our machine park. With this high-end machine, we can process almost any thermoplastic - and three different ones at the same time. The device allows access to all construction parameters. It can be used, for example, to display stiffness gradients in the material or to change the density. In addition, the properties of the initial granulates (electrical or thermal conductivity, strength, transparency) are transferred to the finished part. We can print electronics with this and are working on many exciting projects. Get in touch with us!